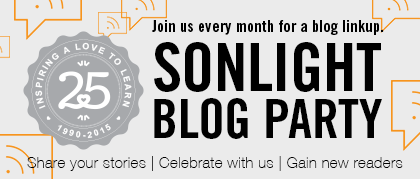 Thanks so much for dropping by our little home on the web. If you have hopped over here from the Sonlight Blog Party, welcome. It is always nice to meet new friends. Let me take a moment to tell you a little bit about myself…
I am Josh's wife.
Mommy to 6 sweet blessings and 2 that left our family much too soon.
Homeschooler.
Deacon's Wife.
Lover of photos + the stories they tell.
Southern Girl.
& So Much More...
The 6 little monkeys in these photos above are the reasons why I am able to add Mommy + Teacher to my resume. Josh and I are so very blessed to be their parents. We have 3 boys + 3 girls ranging in ages from 9 years down to 1 year. We felt the Lord leading us to homeschool when our oldest child was only 3 years old. We figured that if we were taking the "normal" route of education that we would have put him in a 2 or 3 day preschool at this age so instead we made the decision to try preschool at home. We felt like this was a good safe place to start with this whole new "homeschooling" thing. Fast forward a few years and this was definitely the path that God wanted us on and I honestly cannot imagine our family any other way. This is our 7th year homeschooling and we are currently teaching 4th grade, 2nd grade, 1st grade, and PreKindergarten this school year.
Our blog – Our Little Schoolhouse – is a fun place for our family to share our homeschool journey. You might want to check out the ongoing blog series - Why We Homeschool - to learn more about why our family has chosen this educational path or check out the weekly series - My Homeschool Journal – to take a peek into our school days each week. There is no perfect family and no perfect way to homeschool but our desire is to encourage you and walk right along beside you in this wonderful chapter of life. We consider it an honor that you are here on our blog and taking the time to travel this road with us.
Thanks so much for dropping by. Be sure leave us a comment and then hop back over to the Blog Party and check out some of the other families that have linked up this month and don't forget to stop by next month on the 25th as we celebrate Sonlight's 25th anniversary all year long.
PS – Let's stay in touch. You can subscribe to our blog at the top of this page or connect with us on Facebook and Instagram.